Your First Season of Cross Country Skiing
by
Ryan Atkins
on November 02, 2020
Cross country skiing is a strange sport for the uninitiated. You show up at the Nordic Center and there is so much going on that it's hard to decipher where you fit in. Or you head out on your local trails and everyone is enjoying their moments of bliss so you are not going to ask for help. But your first at many things is never easy so you need to follow the same process of going about it – do o some research, find a friend or two and just give it a shot.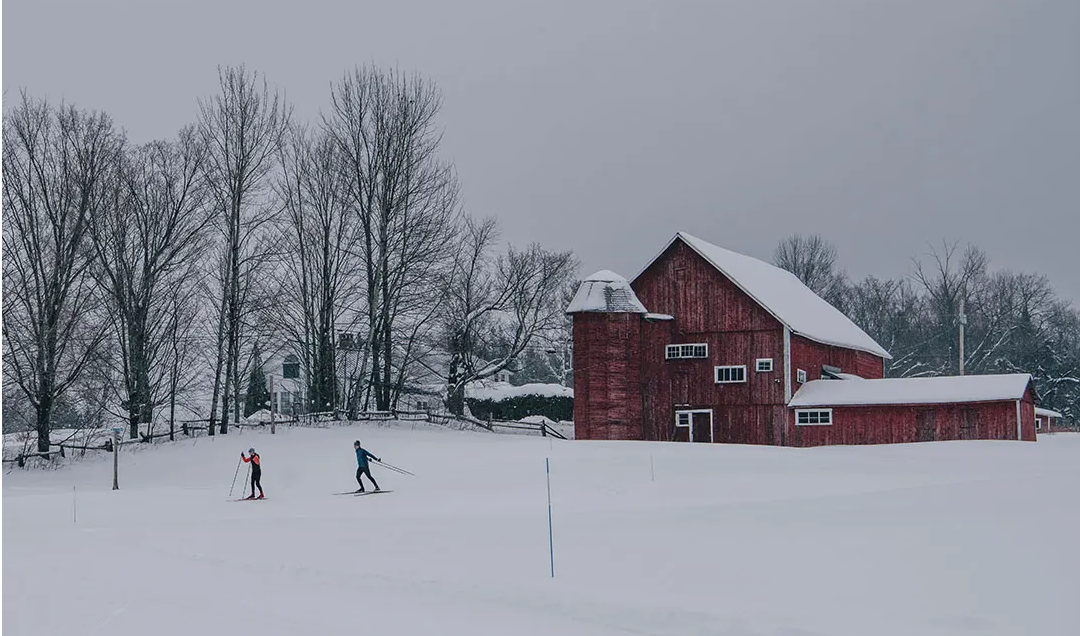 As professional Obstacle Course Racer I love using cross country skiing to stay fit in the winter and give my joints a break from all the running I do during the summer. But I too had to try it for the first time. When I was in University, I was introduced to cross country skiing from a friend and mentor. I was training as a cross country mountain bike racer at the time. I was told that cross country skiing was a super fun way to stay motivated during the "off-season". Well, that was over 12 years ago now. I've since podiumed or won several skiing loppets (Swedish for "race") and logged thousands of miles of gliding across the snow at Nordic centers, from my home and in between.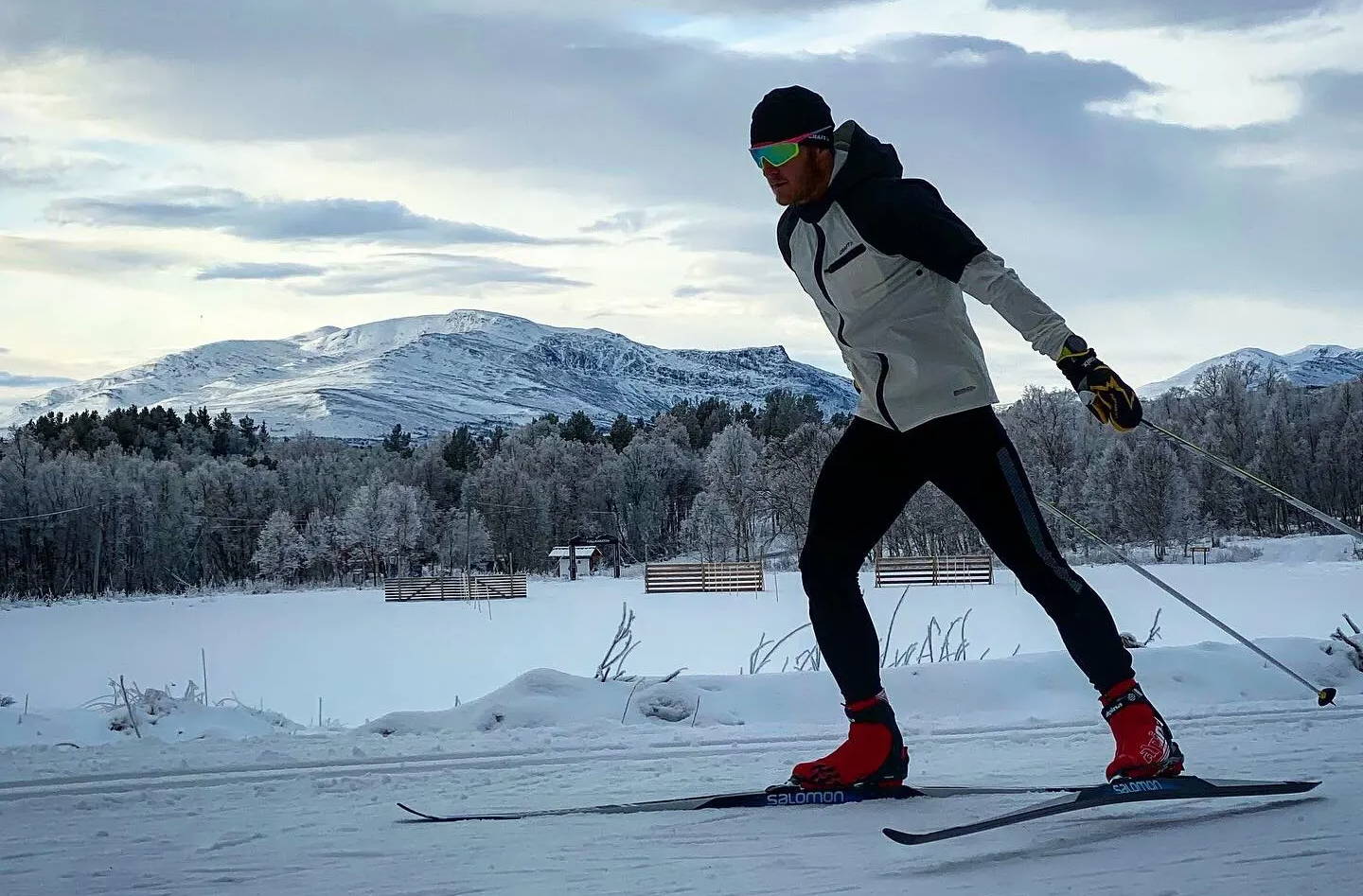 But first you have to ask, why cross country skiing?

Here are my top 10 reasons why:
Cross country skiing is a great workout. Hands down some of the best workouts you can get are on snow.
You get a lot more "bang for your buck" than Alpine skiing, since you aren't sitting on a chairlift for over 50% of your day. Also, the trail passes cost a fraction of what they cost for Alpine. Also, the gear is often less expensive than downhill gear.
As an athlete you probably already have a lot of the necessary clothes to use: baselayers, pants or tights, jackets or midlayers. Just start with whatever you have.
It's a great activity with friends or family. Since the speeds are lower, you can go with people who aren't as comfortable on skis. Conversations and frequent Fikas (Swedsih for coffee break) are always welcomed.
With the great workout you get you stay a lot warmer. Usually the faster you go the warmer you get!
Cross country skiing is great cross-training for running and cycling. It involves cardio and strengthens similar muscle groups
if you live somewhere that doesn't have huge mountains, there can still be great XC skiing on rolling terrain – like a golf course.
Cross country skiing is a great way to get out and enjoy nature in the colder months. And this winter could be a long one for many different reasons.
With that great workout comes a reward – burning many calories. So, in my mind the more you ski the more you can then eat.
If you dress correctly you can cross country ski in almost any winter condition.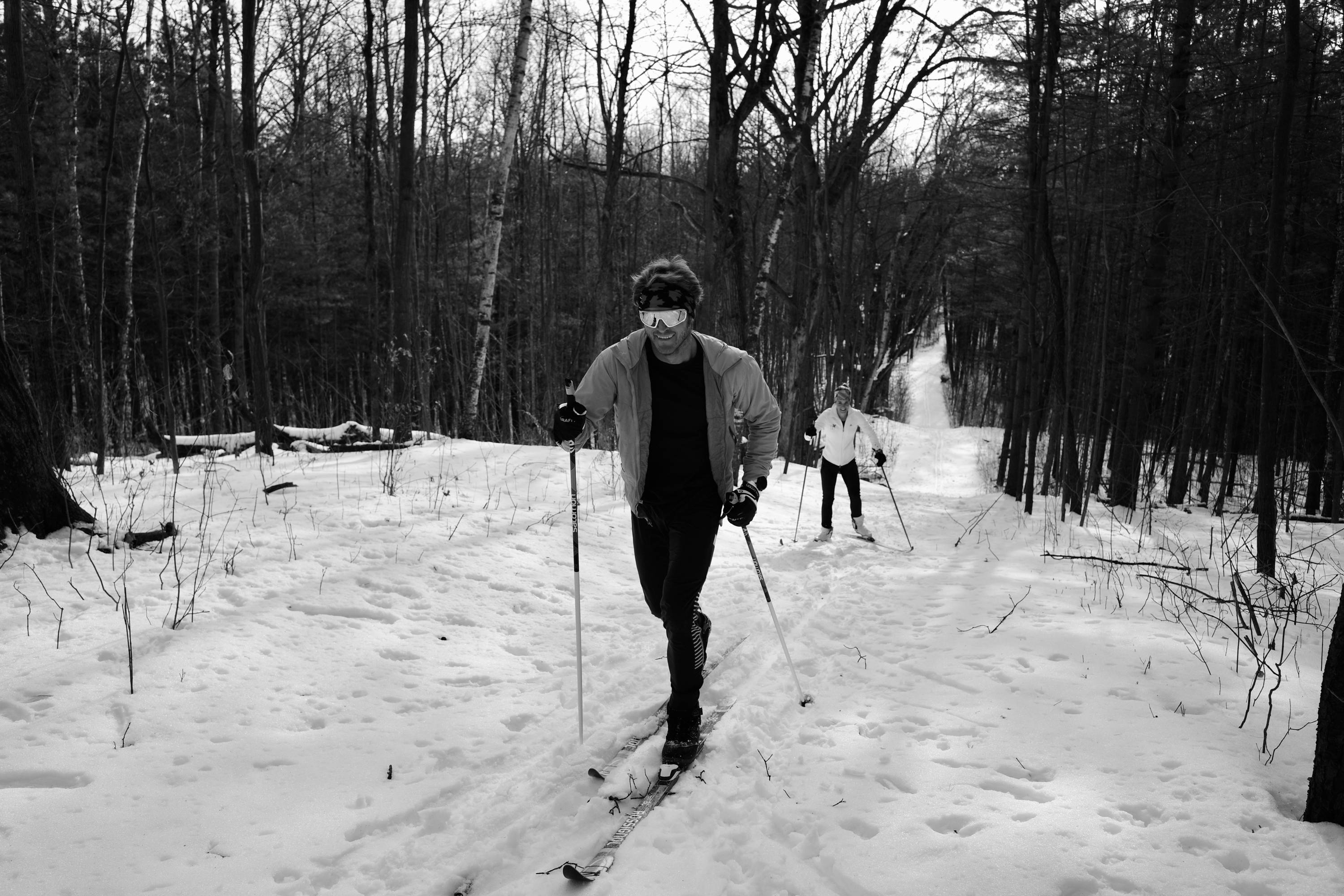 Skate skiing or Classic skiing?

The difference:

Classic skiing is where you have both skis parallel to one another the whole time. You propel yourself forward by "kicking" and shuffling along using the grip (discussed below) of your ski – almost like you are walking. You ski in "tracks" that are the same width apart as your skis. Classic skiing is a great starting point as the technique is more natural for many.
With skate skiing your skis are on an outward angle and you your forward movement is driven by pushing off your skis to the side. The more you skate the faster you go and typically the better workout you get. Having a groomed surface is preferable to effectively skate ski.
The gear:
Classic skis have kick zones (either built-in fish scales, wax or skins) and tend to be longer. The poles are slightly longer for skate skiing than classic skiing. Skate skis tend to be slightly shorter and require only wax as there is only a glide zone and no kick zone. They also tend to have torsional rigidity to allow you to push off the edges as you skate.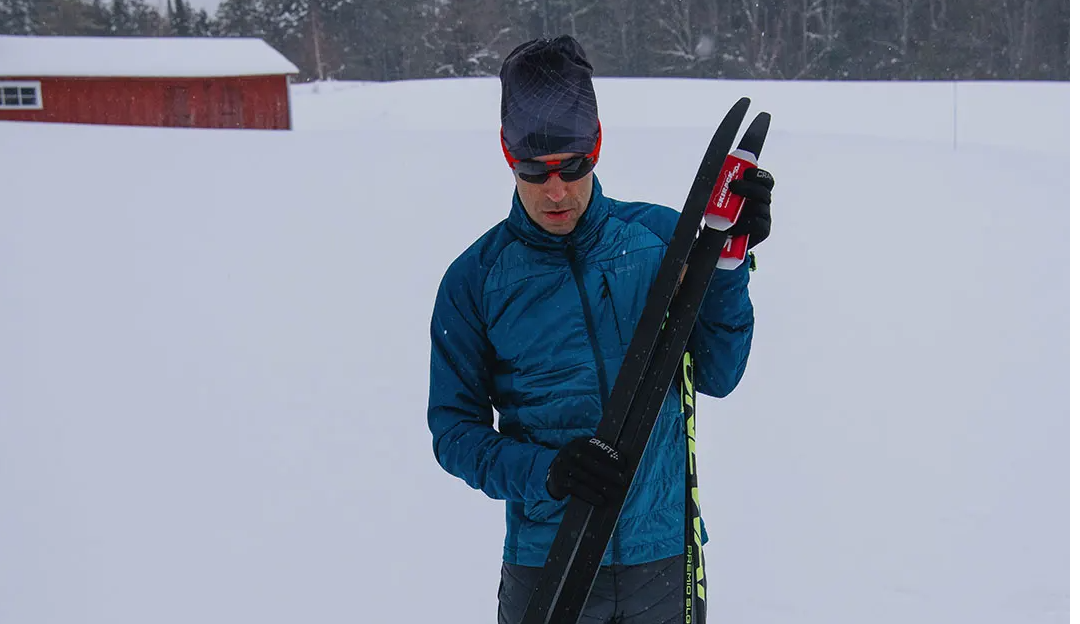 The big question is which discipline to do, since the gear is different. Here are some thoughts to help you decide.
Where are you likely to ski most? Google "Cross country ski near me" to find out and look into the type of skiing they offer. If the local ski trails are mostly groomed for classic skiing, then you might want to choose that. Classic skiing is more versatile and you can easily ski "off trail" or even from your hosue depending on where you live. If you don't have "Machine groomed trails" to ski on, you will want to get a wider pair of skis, capable of handling the deep snow.
If you live somewhere with both classic and skate skiing, then I would recommend skate. You can go a lot faster and you can get your heart rate a lot higher. Skate skiing is great cross training and injury prevention, since you use many muscles activated only in lateral motions.
-The technique for classic skiing at a basic level (just walking along on skis!) is easy to pick up, however, to get "good" takes many, many years. If you plan to ski once or twice a year, maybe classic is a good idea, but if you want to progress and ski fast, then skate skiing is the way to go! The first time on Skate skis will feel really hard, but it gets easier quickly and you can go for an easy ski. I promise it won't be hard forever!
Try it! You should be able to go to a ski center, rent gear and even get a quick lesson to show you the basics. If you can't decide between classic or skate, try both and see which one you like more. Or just go online and search "cross country ski how-to" and watch an instructional video about both techniques.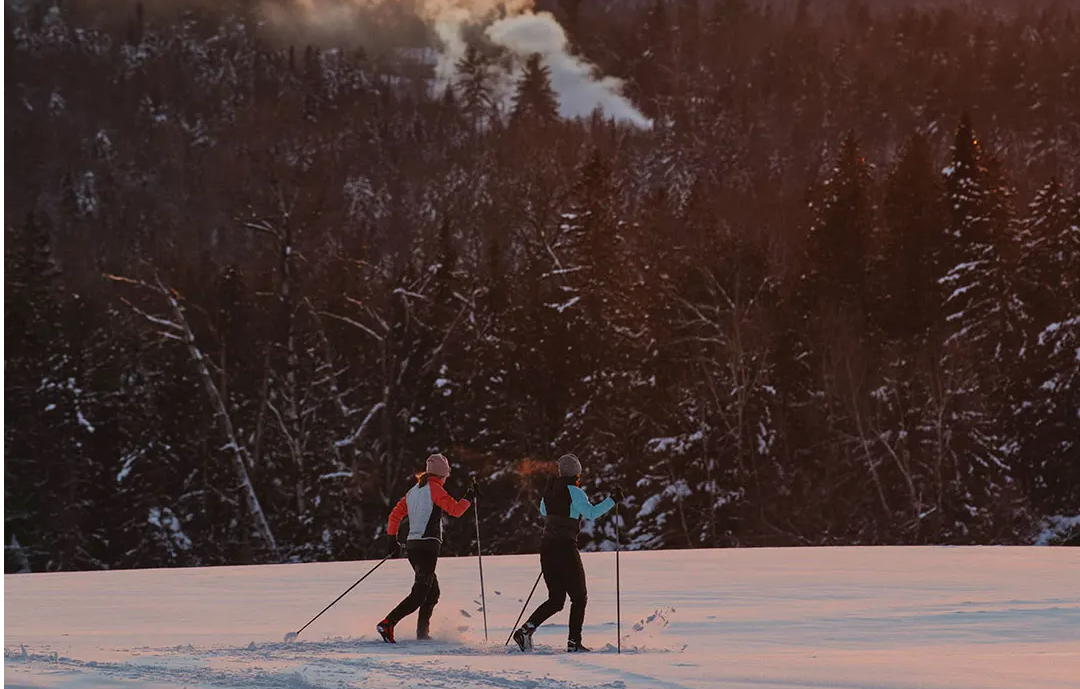 What to wear?

I like to wear pants for cross country skiing that are made of a windproof fabric in the front and a breathable, stretchy fabric in the rear. If it's really cold, I will wear "Windproof underwear" and an extra base layer.

Up top, a Jacket for cross country skiing should keep you warm. Something with good mobility in the arms and lots of breathable panels under the arms and on the back, to let some of the heat/sweat escape. Sunglasses, a neck warmer and a hat complete the look. I will layer more clothes if it's really cold (below -10F), but you will be surprised about how little you can wear. Since you are making so much body heat, the amount of clothing is pretty low. Make sure you don't wear a heavy downhill ski jacket or ski pants. You will overheat and have trouble moving. A pair of mid-weight gloves should do for most conditions. If you suffer from cold hands, try a pair of "Lobster" gloves. These gloves group your fingers together like Spock from Star Trek, to add some warmth. If your feet are notoriously cold, try slightly thicker wool socks otherwise a medium weight sock gives you the warmth and comfort needed for a good fit and good day on snow. I don't like skiing with toe warmers, but that might be a good option for you.
Skiing and training
So, once you have it figured out, how do you substitute or add in training on skis? Well, a lot of the concepts that you use for to train for biking and running are the same for cross country skiing! I love doing hill repeats on the skis or using the terrain to do fartlek style training. One of my favorite workouts is to pick a rolling/hilly track at least 5 km long and go hard for 1 minute then ski easy for 1 minute. I repeat for an hour. Another good one is to just "double pole" for 2 minutes then switch to "legs only" for 2 minutes. Skiing with only poles or only your legs is a great way to practice your technique and give you muscles a little break while you switch it up. Most importantly remember, this is a new sport, have fun with it.
Get out and ski!
 Skiing is a great sport if you live somewhere with snow. Do a little research and get out there. Gliding along silently in a beautiful forest with nothing but the crunch of snow and your rhythmic breath is unlike any other feeling in the world. Enjoy!