Seven Days of the Bike Transalp.
by
Bold Commerce
on November 07, 2019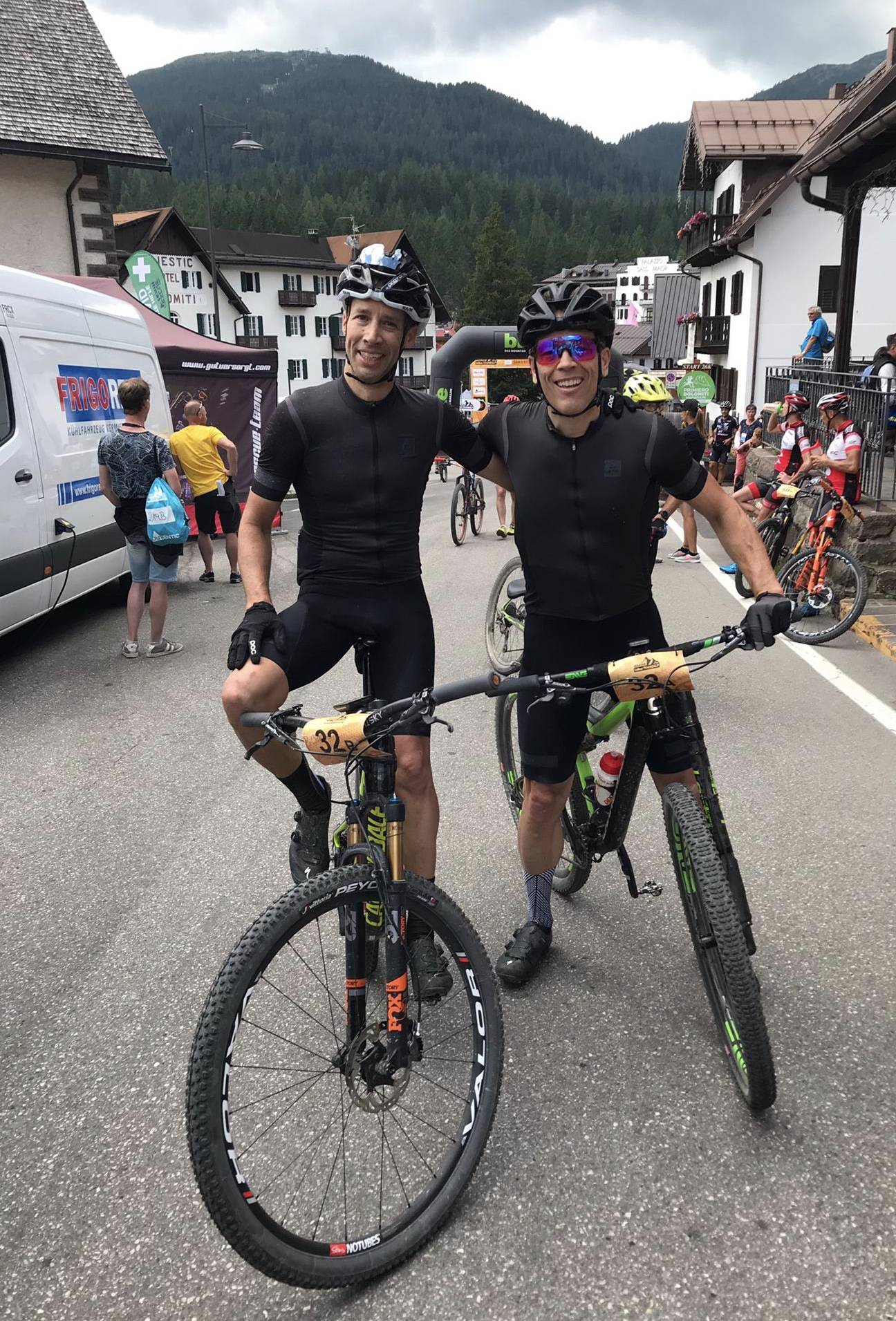 The Maxxis Bike Transalp stage race is a seven-day race that features about 500 kilometers and more than 18 altitude meters in total. I am a Senior Account Director at MMB and Eric my race partner is a lawyer, we both really enjoy the thrills of extreme sports and are both self-proclaimed outdoor enthusiasts. The stage by stage journey chronicles our first-hand account of the race and the trials and tribulations that go along with it.  
After 18,500 meters of climbing and 560 kilometers, the emotions are still running at all-time highs after undertaking the Maxxis Bike Transalp stage race. I've never experienced such a high-level event or taken on seven days of mountain bike racing; it was daunting and rewarding all the same time. It all started on July 14th as we took off from Tux, Austria and weaved our way across the Alps suffering with fellow racers, cheering each other on and enjoying the amazing landscape we rode through as we made our way to Lake Molveno in Italy.  
Stage 1. Tux Austria to Brixen Italy
At 105 kilometers with 3206 meters in altitude gain, the first stage was a tough one. Right from the start gun, we started climbing, and after 90 mins we passed directly under the Hintertux glacier where we could see elite ski racers getting in their summer training. Not ever racing a stage race, both Eric and I knew we need to stick to our plan and execute against our numbers. It was an extremely tough day, but we stuck to our program - conserved on the climbs and attacked the downs, flats, and single track. As we rolled into Brixen, Italy we were happy to hear we had secured 15th Overall in the Masters' category.
Stage 2 - Welcome to the Dolomites - Tux to St. Vigil
Right out of the gate, we were hit with a huge climb. Another 90 mins in the pain cave with and over 1,400+ M in elevation gain. And there is only have one word to describe this - Ouch! Somehow, however, I was able to crack a grimacing smile for the camera as we neared the top. Once we crested the top we were rewarded was an amazing flow trail, Jerry's Line. Perfectly manicured with massive berms to carry our speed through it was next to impossible to wipe the smiles off our faces and we wished it could have continued to finish line in St. Vigil, Italy. We maintained our 15th spot in our AG.
Stage 3 — The Queen Stage
For those of you that don't know what a Queen stage is, it's the stage, which is deemed the hardest, most demanding, and the most prestigious stage of the seven we were racing. Let me tell you, this is beyond accurate and it was a beat down in every sense. We started off very strong putting in some good distance and time into the teams around us in the overall standings. Then around 60K, it all fell apart for us. First, we went off course by roughly 3K and ended up at the bottom of a resort where a lovely couple told us we missed the turn and had to climb back up 100 meters or so. It was much further than 100 meters. This unfortunate turn of events resulted in losing all that time we put into the teams. We tried hard to chase them all back down, and along the way, we were both carrying way too much speed into a sketchy bridge, and both of us went down hard. Eric went down much harder than I did as I was able to slow up just a tad and reduced the amount of road rash I walked away with. We were successful in catching the groups, but the damage was done, I had burned all my matches, and on the last big climb of the day, I hit the wall and couldn't keep that pace going. At that point, we knew we had to conserve our energy for the remaining four days, and we had to let them all ride away. The good news is we held onto our 15th overall Master position. Consistency is good!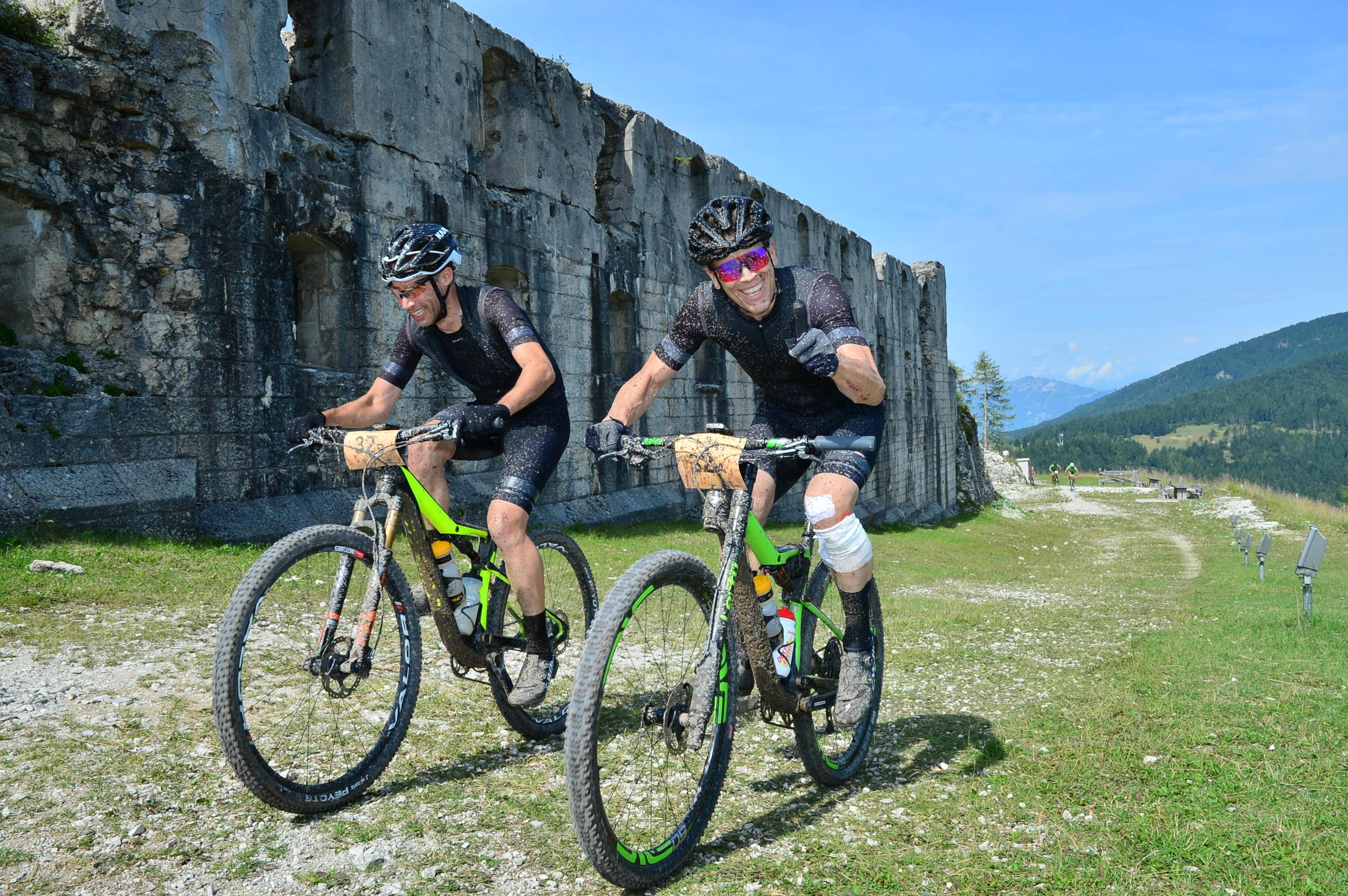 Stage 4 – Eggental to San Martino
The Queen Stage must have taken it's a toll on me, as today was the day where 200 watts felt like 400 watts. I clearly was not recovered from the previous day. Thankfully I have a great teammate who had fresh legs as Eric put in the hard work on the few flats we had and helped push me along up the last 4K of a 10k climb. Overall it was a fantastic stage, and we held onto our overall 15th position while closing the time gap on 14th. Stage 5 is the longest – 112K, so it was essential to put the legs up, refuel, and rest up.
Stage 5 — San Martino to Folgaria
This was an epic Italian beatdown. This stage started out perfectly for us since we were not immediately hit with a giant 90-minute climb right from the start. A slight climb out of town and right into the best single track we had ridden this week. We had gotten rain overnight, so it was wet and technical, which plays perfectly with our skillset. After the one mandatory hike a bike section we were able to create a big gap on the teams around us, and since we were feeling so good, we kept the hammer down. Around the 25K mark, we hit our first big climb of the day, and we were also riding into a rainstorm, and as you can imagine the higher, we climbed the colder it got. I had a vest I threw on for the descent, but Eric left his at the last second and was shivering uncontrollably by the time we reached the top. Then it was a long descent and combined with low visibility and the cold rain it was an intense down. Thankfully once down in the valley it wasn't raining, and it warmed up nicely. At the 81k checkpoint we were sitting nicely in 12th place, still feeling great and riding strong. The last climb of the day we knew was going to be a doozy, but we didn't realize just how much. It was insane, wall after wall of 20% plus pitches. Around halfway up the other teams behind us came into sight and one by one they came around the two American Flatlanders. There was no way we were going to be able to come anywhere close to holding their wheel. Once we made it to the top, we had a nice fast 4k descent into town where we were greeted with cheers from the locals lining the streets. Once again we finished in 15th place for the day, and we moved up to 14th overall with 13th overall only 1:20 away! This stage was a suffer-fest, but it was also one of the best days I had on a mountain bike. Tomorrow is a shorter stage and a lot less climbing. YAY!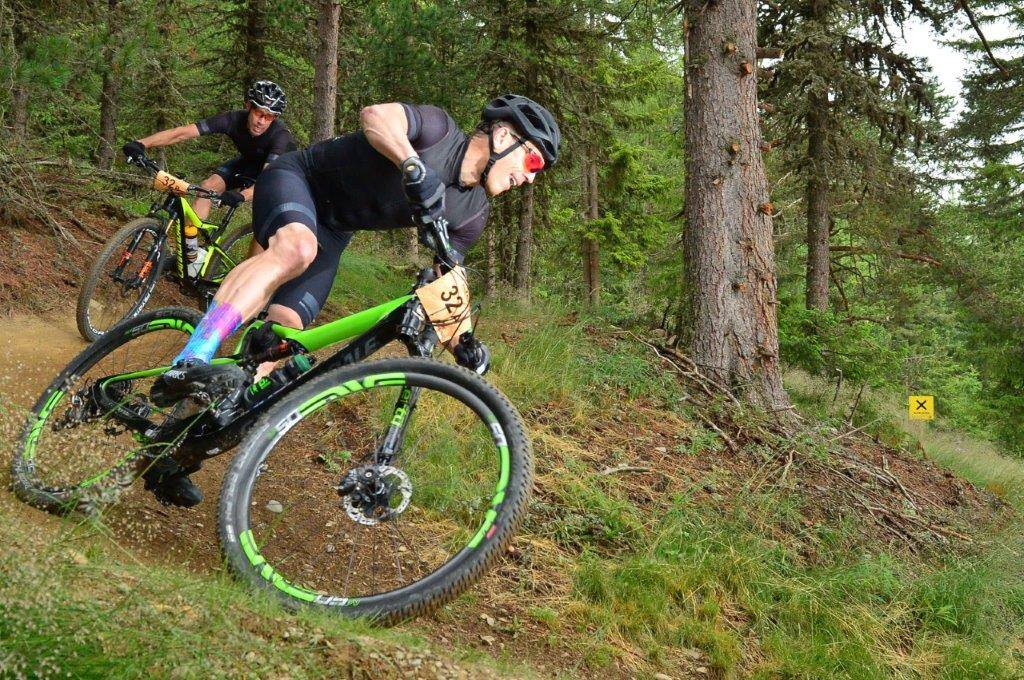 Stage 6 - Folgaria to Trento
Today was the shortest stage, but it was not short on racing fun. Plenty of attacks here and there and some big efforts to close gaps. What Eric and I have come to terms with is we're snails on the ups compared to those around us but we're rockets on the way down so, it's constant yo-yoing. We get passed on the way up, and we pass them again on the way down. We've been playing with this strength all week, and we're happy with the consistency we experienced through the six stages so far. The toughest part of today's stage was learning Eric is coming down with something, perhaps strep and along with his wounds from his crash, his body is not happy. He's a fierce competitor, and he left it all out on the course today. So much so, I think he forgot he had brakes on the last sketchy downhill section. He was so determined to catch and pass the team directly in front of us that he double flatted 100 meters before the finish and he still sprinted for the line with his tires quickly losing air. And yes, we did get to the line first.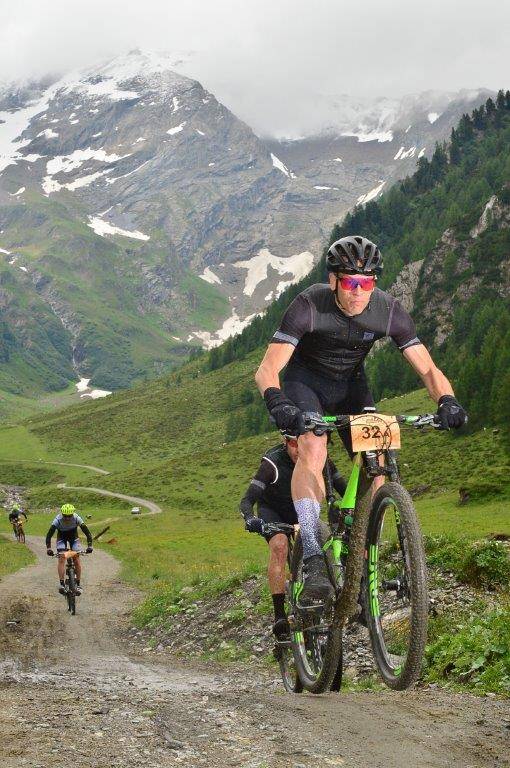 Stage 7 – Trento to Molveno
Overnight Eric took a turn for the worse, and his body was shutting down and fighting off a virus, the stress of the race and his road rash was not healing. As we made our way to the start line, we discussed if he should race or not. It didn't surprise me he wanted to race and cross the finish line together. We made it clear that today was not about racing but making sure Eric remained healthy and crossing the line in one piece. This stage was all about the steep" Ramps" as they call them and they greeted us throughout the day along with some sweet single track descents on our way to Molveno. We took it easy, paced ourselves, and made sure Eric was riding conservatively, so he didn't dig himself into a deeper hole and get sicker. We made it, and I was thrilled to have crossed the finish line with the best teammate one could have, while also sharing this experience with our other friends Peter and Drew. There were some ups and downs, but that's to be expected when you take on arguably one of the most challenging mountain bike stage races in the world. However, over the course of the seven days, we met some fantastic people, we rode through the most spectacular mountain range and through magical mountainside villages that appear to be stuck in a time when things were much simpler. It's been an epic experience, and I couldn't be more grateful for having the opportunity to participate in an event like this and to have so much love and support from my family and friends along the way. We lost a couple of spots on this final day, but Eric health was the most critical thing for us to address and we're both very proud and happy with our 16th place finish in our age group.
Now we turn our energy and focus on finding the next crazy adventure!