-
by
Various
on July 28, 2021


We all sweat it out in the saddle for many different reasons. All those miles have a meaning and during National Cycling Month, we asked you to share yours.
Below are some of our favorite answers.
We all sweat it out in the saddle for many different reasons. All those miles have a meaning and during National Cycling Month, we asked you to share yours.
Below are some of our favorite answers.
Winner #1: Shayna Barnhill
It all started last May. My daughter and son hopped on their bikes and instant love was found. Which left me needing to find a bike. Yep, I didn't even own one. Biking has changed our families life. Bikes are now as essential as food. That feeling I got watching my daughter pedal off for the first time was something I will remember forever.

Last summer was spent on new trails and in new places. Listening to my kids demanding more places to shred. We also found ourselves on trails we skied over and over. Seeing the trail from a bike was a whole new perspective. My kids got me riding and now I will ride forever, because in a year full of oddities and the unknown, my bike kept me and my family sane.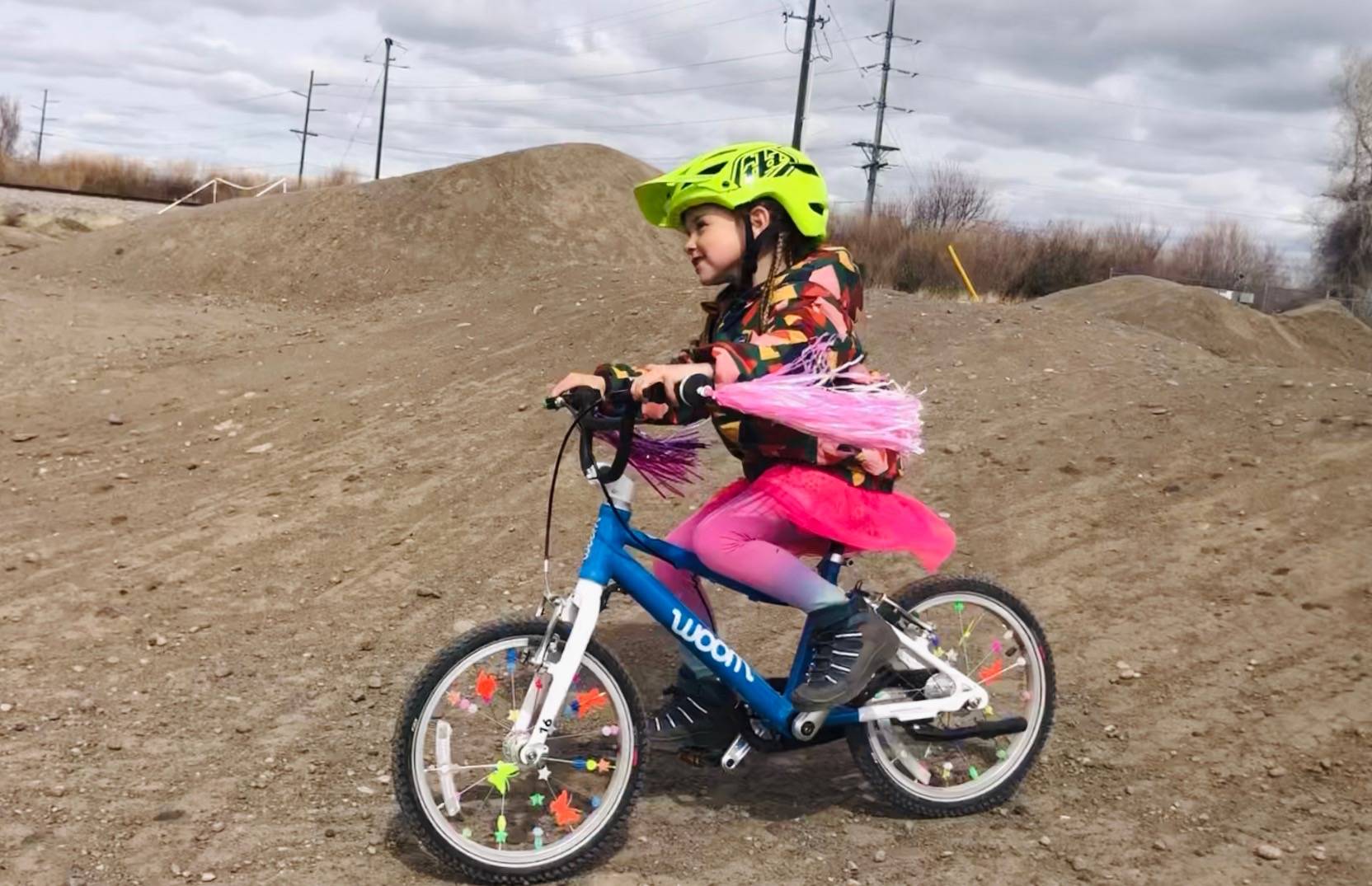 I ride because I can! I bought my 1st bike for myself after suffering a complex leg injury and having to have surgery. The stationary bike at physical therapy was like riding a hamster wheel to nowhere. At first I only rode around my neighborhood, but as my leg strengthened I started going further out, and instead of driving to the beach to rent bikes, I would ride the 15 miles to the beach, to ride some more. I live in a neighborhood where if people see you on a bike, they assume it's because you don't have a car. They don't know how, fun, beneficial, exhilarating and therapeutic it is, to ride the curves of the road on a slim piece of machinery, with two wheels. It's where I feel most free. After buying my bike, I connected with others online that are new to cycling as well as veterans, and now have friends that share the passion of living an active life. When on my bike, I can't think of the world's stresses, only me, the bike, sharing the road, and the scenery, It's bliss. Before my injury I took for granted my physical abilities, and being on crutches for 3 months out of a year really humbled me and I never want to feel like I'm not reaching for my full potential. Even though I'm healed, it hurts to run long distances and cycling makes it possible for me to go far, fast; on the road or on the trails; solo or with friends.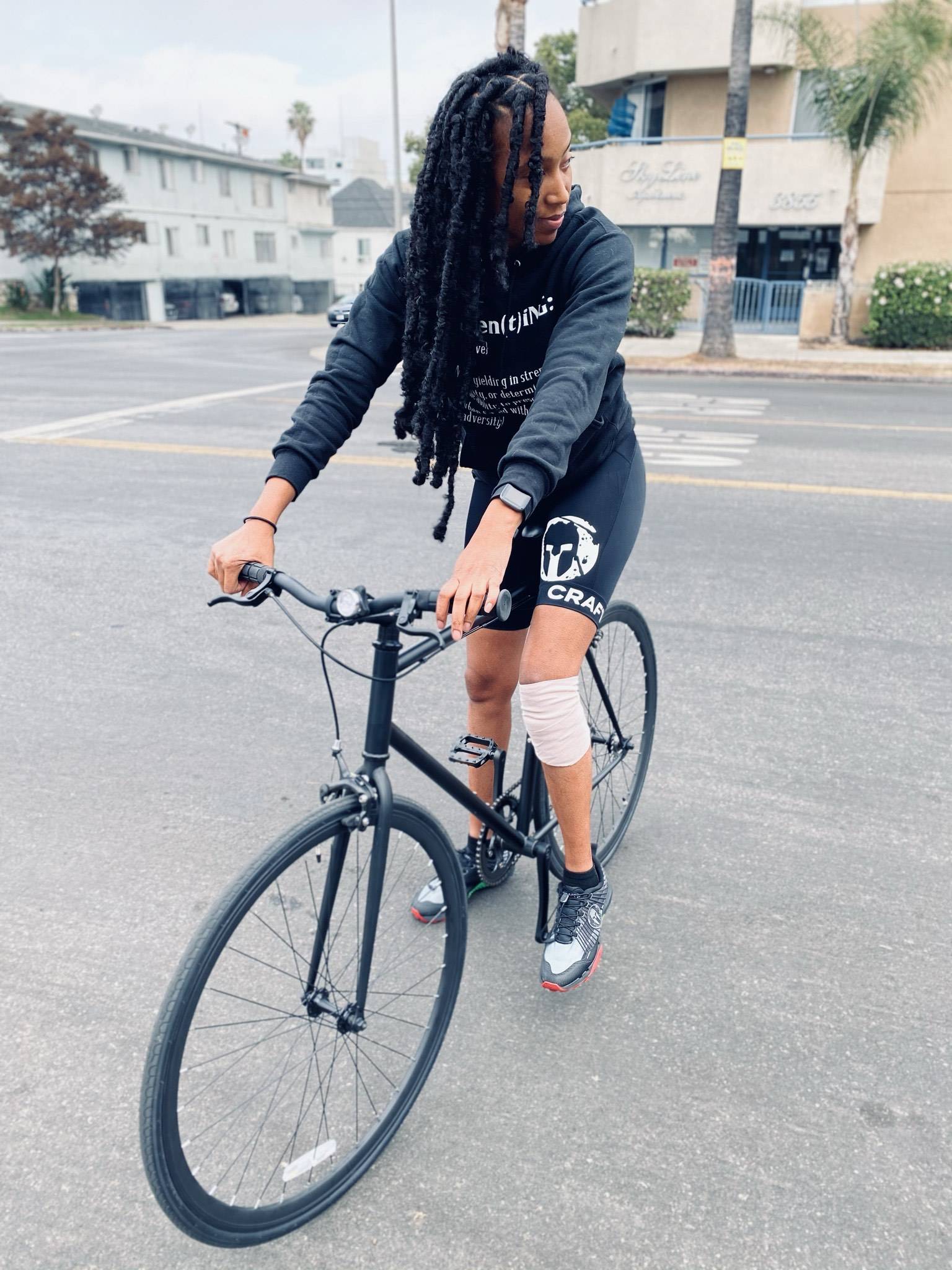 I ride for me and my family. It's as simple as that I lost my brother when he was 44 to obesity related diseases , I lost my father at 62 to Parkinson's and lost my mom at 41 to cancer. So at 44 I ride, I run and I swim to fight off anything that might be out there to harm me and take me away from my wife prematurely. I ride to make me feel proud of all the miles that I accomplish with each ride and the way it makes me feel after. I ride to be the best version of my self not only for me but for everyone that loves me and for everyone that I love. I may never be at the front of a ride or race but for me finishing and seeing how happy I am and how proud my wife is of me is enough. Thanks for being a awesome company
Throughout the 1990s and 2000s, my wife was a beast in spin class, always front and center in the studio. Unexpectedly, she began experiencing balance and coordination issues, and after two years of tests was finally diagnosed with MSA-C, a progressive, incurable neurological disease. After she passed away in November 2018, I wrote as one of my goals to ride a Century in 2020. With immeasurable support, advice, and encouragement from two brothers and my cycling son, I began training in mid-May 2020, cycling 5 days a week, and in early October, I completed the Sacramento Century Challenge, unsupported due to COVID-19, riding 104 miles in 7 hours 14 minutes of moving time and averaging over 14mph. By the end of 2020, I cycled nearly 184 hours, 2500 miles, 40K feet elevation gain, and averaged over 13mph. My goals for 2021: 3600-4000 miles, 80K feet elevation gain, and average over 14mph – cycling 75 miles and 3 days a week while also running 20 miles and 4 days a week. My wife and I were married for 31 years and celebrated 43 First Date anniversaries since our first year in high school, so cycling is a continued connection to her, as I imagine us cycling together. And because she went all out in spin class, I include speed intervals and climbing beyond just the miles, pushing myself to get stronger and faster, as motivation to be able to sit on her wheel.
Riding is pleasure, but I do not ride for it.
Riding is being in nature, but I do nor ride for it.
Riding is good company, but I do not ride for it.

Why? because sometimes i ride in cold, miserable weather or in the pain cave, or alone, and yet I ride.

So why do I ride, and why do i keep daily reminders popping up on my phone?

I ride because my commitment may, perhaps, be of example to someone needing motivation I ride because you do not stop playing when you get older but you get older when you stop playing I ride because I desire to measure myself and place in the top 10% on any race i enter I ride to honour the ones whom suffered before me and the ones that will after I am gone I ride because pain come with age and i want to be ready for it and less of a burden to my dear ones I ride because there is no "hiding" or "pretending to be someone else" on a climb

I ride because riding teaches me a bit how to live.
I didn't start riding until I was in my late 30's. My youngest son joined a mountain biking team and fell hard for the sport. As he grew his training would take longer and longer. So to kill time and get a workout in I bought a cheap bike and hit the trails. Soon after I loved riding too. As a working mother it's hard to really get away from it all just for a moment but when I'm flying down a rocky trail or climbing a hill I couldn't do the month before all I can think about is the task at hand, not doing the laundry, paying bills, or grocery shopping, just the trail I'm on. My why is simple for my sanity, my happiness and my health. I have since got my sons hand me down trek he outgrew and done some novice racing. I don't win but I'm perfectly happy being an average rider. I even get to tag along with my son now but only for his easy spins.  
My Cathedral is the open expanse of smooth blacktop laid out like a ribbon through the city and back country of San Diego

I pray on an altar of carbon fiber and aluminum and steel.

I read from the books CycleSport, Paved, Peloton and Road Magazines.

My sacramental wine has a distinctly lemon-lime taste and comes in 20oz bottles with SkratchLabs icons emblazoned upon their sides.

I suffer the pain of crucifixion on the 10%+ grades of Laguna, Palomar, Kitchen Creek and Honey Springs Road while the heat of Summer bakes my skin.I sacrifice my needs and wants for others in the form of setting Tempo and chasing down breaks on group rides for I am at heart a true domestique.
I pedal endlessly even when my body screams to stop for it is that purity of the moment when you exist simply to breathe and turn the pedals while you can feel your heart beating in your ears that you realize what really matters in life. And that is pushing your physical self farther than you ever thought possible to unleash the intangible thing that makes you who you are and realizing you are so much more than you or anyone else can imagine.
Merckx, Hinault, Lemond, Hampsten, Phinney, Voigt, Bartoli are my savior and I get on my bike and ride to worship everyday in the House That Merckx Built.


The manifold of why I ride..

How does one express the depth of a love where words falter in expression? Personal reasons of why one cycles are impossible to verbalize. It's solely meant to be experienced. My words are meek; though I hope they're enough to paint a vivid picture with limited interpretation of why I love cycling.

You see, my bike and I have an understanding, that which is of need and desire and it goes a little something like this:

Biking presents me with a limitless wide open world and it's mine for the taking
Together my gracious two-wheeled steed and I escape the confines of everyday monotony
Whisked away into a time of decompression where I eagerly embrace my wild mess of sweat, grime, contorted faces and sometimes feral battle cries.
But do not fear, It's all a celebration of spirit and deep breaths of existential growth
An intimate engagement that captures a beautiful multifaceted relationship. One where I embrace the intense challenges and relish in easy day compensations.  

The glory in my cycling can sometimes be complex but the basic fact of the matter is:
My bike accepts me, never judging me - personally or performance wise. Instead it just leads me to fresh places with sun in my soul and wind in my face, allowing me to dream and conquer without restriction. Cycling is my natural therapy. I mean who'd of thought that my bike would balance me and for that - Everyday I'm Grateful.
For some riding is a race, for other a hobby or a transportation tool. But for all, it's a way of life. The benefits of riding are too plentiful to be synthetised but what it does is that it makes us feel like we belong. We are a community, we are one. Riding allowed me to connect with likeminded individuals and to have fun and long chats while exercising. The smiles, handshakes, nods or waves when crossing the path of a fellow cyclist makes my days and brings me joy. It also helps me to put things into perspective. A bad day can easily be turned around into a good one. In fact, that sense of belonging to a community, those hours spent with friends escaping the world, discovering new places and feeling the air have done so much for my mental health. My body is pedaling but my spirit is soaring. I am in a bubble, feeling relaxed, stress free, joyful. The pleasures from the endorphins make me high on life and keep me away from anxiety. Thanks to you all my fellow cyclists for bringing me into my happy place.  
So really, why don't you ride?
In 2016, I transition from indoor spinning to cycling outdoors. Within a few months, I completed my first century. In 2017, I began struggling with vision changes, lifting up my head and supporting my upper body on the bike. Soon my bike was relegated to the garage, I could barely cycle indoors, and I was diagnosed with Myasthenia Gravis- an autoimmune disease that affects the strength of voluntary and involuntary muscles. I underwent a full chest thymectomy in 2018 and continue to receive monthly 6-hour infusion therapy for MG. In the midst of COVID-19, depression took a toll on me. I attempted to ride my bike to reminisce on a happier time. I had a rough start initially. However, since then, not a week has not passed without me riding my bike. I ride because I remember a time when I couldn't. I ride because there are moments when I cannot. And I ride because the bike allows me to have a sense of freedom, purpose, and accomplishment that I would not otherwise have.
I am 83 and ride only 6000 miles a year, but I classic ski over 2000 miles a year. It is good to stay in shape as you grow older. I raced over a lot of races in 1970 to 1980 in Canada, US and Europe.   No racing now but it's good to stay in shape.
Stage IV pancreatic metastatic cancer has taught me the following:
1. I race/ride to pursue excellence on the day, whatever that may mean. Some days this "excellence" feels like a shadow of my former self. Other days it feels as if I achieve the impossible.

2. It is the later feelings that keep me coming back to the starting line, time and time again, and it's the mystery of what each race will hold that keeps me hungry and striving for more. I have to, "knock on the door" of my soul and see who answers. I have to go to the edge of my limits and see if I can balance there or even go beyond what I think they are.

3.I get to define my story, but I'm not (totally) in control of it. I get to create my luck by laying the foundation of preparation and throwing myself into the lion's den of opportunity and yet I also get humbled by the course, humbled by my competitors, and ultimately humbled by the fact that I assumed I could control anything at all!

4.Yet on the BEST days I do have an illusion of control! On the best days I float over the course in a flow that only knows the present moment and how my body, soul, mind, and spirit is conquering every second in that moment! This is why I race and ride!
--
"All of my biggest breakthroughs were born out of love. They were acts of worship." - Ryan Hall